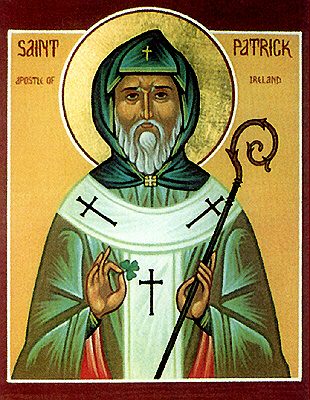 St. Patrick's call to evangelize the Irish is a wild and absolutely unique story. Born in Britain, he was captured as a young man by Celtic pirates, enslaved as a shepherd in Ireland and, after having risked his life to regain his freedom, said "yes" to a divine call to return to his captors in order to preach the Gospel to them.
Patrick had stunning evangelical success as Christianity swept across Ireland in a short time, and it is a near-miracle of history that the ex-slave Bishop shepherded the notoriously brutal Celtic slave trade industry into an abrupt end.
Among the many characteristics of Patrick that marked the Irish soul, his earthy and no-nonsense humility stands out. Just take a moment to read this brief selection from his autobiographical Confession:
I am, then, first of all, countryfied, an exile, evidently unlearned, one who is not able to see into the future, but I know for certain, that before I was humbled I was like a stone lying in deep mire, and he that is mighty came and in his mercy raised me up and, indeed, lifted me high up and placed me on top of the wall. And from there I ought to shout out in gratitude to the Lord for his great favours in this world and for ever, that the mind of man cannot measure.

Therefore be amazed, you great and small who fear God, and you men of God, eloquent speakers, listen and contemplate. Who was it summoned me, a fool, from the midst of those who appear wise and learned in the law and powerful in rhetoric and in all things? Me, truly wretched in this world, he inspired before others that I could be– if I would– such a one who, with fear and reverence, and faithfully, without complaint, would come to the people to whom the love of Christ brought me and gave me in my lifetime, if I should be worthy, to serve them truly and with humility.

Therefore may it never befall me to be separated by my God from his people whom he has won in this most remote land. I pray God that he gives me perseverance, and that he will deign that I should be a faithful witness for his sake right up to the time of my passing.

And if at any time I managed anything of good for the sake of my God whom I love, I beg of him that he grant it to me to shed my blood for his name with proselytes and captives, even should I be left unburied, or even were my wretched body to be torn limb from limb by dogs or savage beasts, or were it to be devoured by the birds of the air, I think, most surely, were this to have happened to me, I had saved both my soul and my body. For beyond any doubt on that day we shall rise again in the brightness of the sun, that is, in the glory of Christ Jesus our Redeemer, as children of the living God and co-heirs of Christ, made in his image; for we shall reign through him and for him and in him.
St. Patrick, Apostle of Ireland, pray for us.
Join me in prayerfully listening to the Lorica (Breastplate) of St. Patrick: