Okay, I feel compelled to interrupt my regularly scheduled Blog post today to insert this ridiculously marvelous reflection Pope Francis gave Wednesday on the topic of the "communion of saints" and scratch out a few reflective thoughts.
Read this excerpt:
John's Gospel states that, before his Passion, Jesus prayed to the Father for communion among his disciples, with these words: "that they may all be one; even as thou, Father, art in me, and I in thee, that they also may be in us, so that the world may believe that thou hast sent me" (17:21). The Church, in her most profound truth, is communion with God, intimacy with God, a communion of love with Christ and with the Father in the Holy Spirit, which extends to brotherly communion. This relationship between Jesus and the Father is the "matrix" of the bond between us Christians: if we are intimately part of this "matrix", this fiery furnace of love, then we can truly become of one single heart and one single soul among us. For God's love burns away our selfishness, our prejudices, our interior and exterior divisions. The love of God even burns away our sins. If we are rooted in the source of Love, which is God, then a reciprocal movement also occurs: from brothers to God.
What an image.
He's saying: Real, authentic, abiding Christian unity and communion can only be had if Christians become saints who freely abide in the relational "matrix" of "fiery love" that burns between the Father and the Son. That's a sort of tautology, since saints, by definition, find themselves caught up in the deep mystery of the interior structures of God's inner life — the "matrix" — which include, as the Nicene Creed magnificently reminds us, divine acts of eternal begetting, being begotten, born and proceeding. These are verbs, taken from the Scriptures (see here), that describe the origin and relationships of each divine Person to the other Persons, all of whom are consubstantial, i.e. all three Persons are whatever-it-means-to-be-God.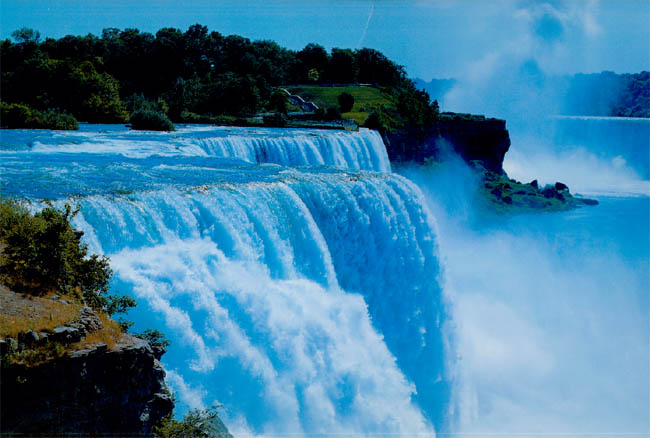 Yes, that's God-breathed mystery language that alludes and gestures toward the reality of God revealed to us fully in Christ. But because it's mystery-language, its intelligible content, though true, always by necessity super-exceeds our human capacity to understand, like the water of the Niagara River forever and thrice exceeds the rocky precipices named Horseshoe Falls, American Falls and Bridal Veil Falls.
Prayerfully consider for a moment that God became man so that man, through Baptism and all the Sacraments, might possess fully the terrifying joy of being granted immortal entry into divinity's infinitely excessive dynamism:
…the Only Begotten Son of God,

born of the Father before all ages.

God from God, Light from Light,

true God from true God,

begotten, not made, consubstantial

with the Father…

the Holy Spirit,

the Lord, the giver of life,

who proceeds from the Father and the Son
Credo
When you say/sing "I believe in…" with living faith, you are claiming no mere foggy assent to an abstract intellectual proposition about what God might be like. Rather you are choosing  to freely re-plunge into the dangerous, roiling, turbulent, inscrutably mysterious and supremely peaceful structures of God's infinite manner of being Thrice-God.
That's really, really mind blowing and should cause us to blush for even trying to articulate it apart from the sublime gild of sacred music, the eye-shielding grace of shrouding incense, the articulated awe of bodies bent over or the cathedral space of celestial silence measuring one half-hour (Rev. 8:1).
Amor saca amor — Love begets love
But, the Pope adds, those who allow themselves to be caught up in this Father-Son Furnace of endlessly out-flowing/in-flowing love also overflow and boil-over – with God – outward with love toward other persons — toward "brothers" in the communion of saints who also find themselves caught up in the Trinity.
That's the foundation of Church unity: sharing in the eternal Communion of Persons in God that preceded not only the Church's birth at Pentecost, but the creation of the universe.
It's not about us, it's about God-for-us, God-with-us.
In the first instance, ecclesial unity/communion is not something we build in 5 year strategic plans, or diligently work toward and strive toward with problem solving ingenuity. Rather, it's something we receive and participate in by freely allowing ourselves to be caught up in the immortal and burning Fire of that Father-Son matrix, that infinitely fertile "space" in the loving gaze ever-exchanged between Father and Son.
In other words, ecclesial unity requires you to be a saint.
Well, what are you waiting for?