[As I am still recovering from an intensive retreat I recently gave, I am thin on words. But here's a fun and fleeting thought for today.]
As I once collapsed under the weight of advanced calculus in college, this Blog post title strikes terror in my soul.
I used to have a t-shirt back in college (that I took off on the spot and gave to a complete stranger who said she thought it was 'so cool' — something you do when you're an undergrad) that had this on the back: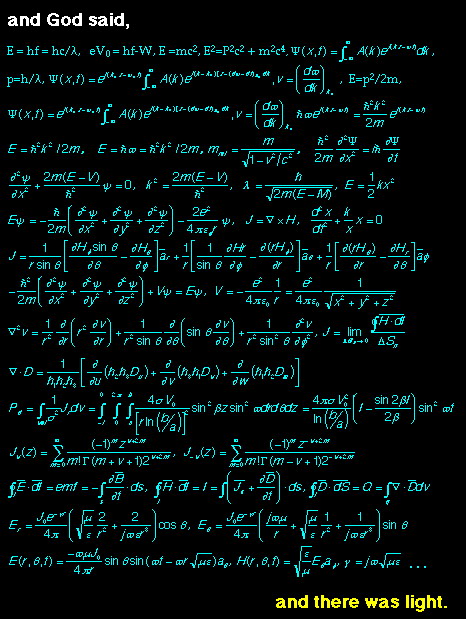 I wish I had it again.
I recall my physics professor in a lecture back in 1988 at Florida State said,
If there is a God, his first language is math.
Thank God my own theological work does not require this language, though if I were a real theologian like Augustine, I would be more committed to learning:
God's infinity would still be of a higher magnitude, an infinity of different kind. His infinity is above all possible temporal (and spatial) infinity; it is an infinity of infinities, whose magnitude can be dimly imagined by means of mathematical infinity. It is an infinity of infinities also in that, As St. Augustine said in City of God, "all infinity is in some ineffable way made finite to God," since no infinity is incomprehensible to God, he can count numbers without succession of thought. God is even able to count without numbers, which assumes that there is no number equal to the quantity of all numbers, that is, no number, to use modern parlance, expressing cardinality of integers (which is aleph zero). This is no hindrance to God who is able to see the entire sequence of numbers without looking at these numbers one by one. Infinity of these numbers can be grasped in one act of comprehension. — Adam Drozdek, "Beyond Infinity: Augustine and Cantor"
Reading Drozdek's book, as a friend of mine words it, often feels like a dog watching TV: captivated but uncomprehending.
On that note, let me encourage you to watch this ~9 minute video on "falling in love with math," and then apply its principles to evangelization and catechesis. My son shared it with me and said: "This is how the Church should approach making the faith attractive." Yes.
Here it is: https://www.youtube.com/watch?v=Yexc19j3TjE