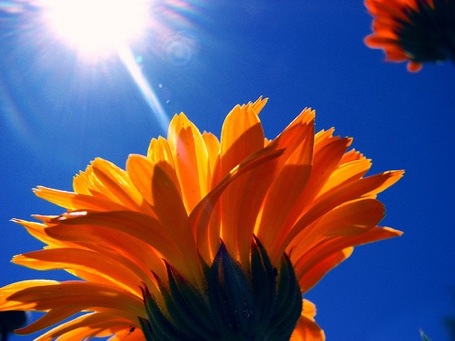 …for God is leading Israel in joy
by the light of his glory,
with his mercy and justice for company — Bar. 5:9
This text from today's first reading at Mass has a quiet beauty about it. Especially, "leading Israel in joy." Let me share here some fragmented thoughts on joy.
Joy, in the Christian tradition, is a fruit of the Spirit. The fruits of the Spirit are side-effects of living life in harmony with the will of God. I like to define joy as delight in the fulfillment of goodness, beauty and truth, all of which are the summation of a life lived in love. But unlike happiness, which demands fulfillment in the present, joy feeds off of a confident trust in the future promise of fulfillment assured by a God who is trustworthy and able.
Joy can be as elusive as the future.
This all means joy and hope are close companions. Hence, the God who "leads Israel in joy" is the God who has established for His people, in a hopeless present, the promise of a future full of hope.
Like hope, joy intensifies as the present experience of darkness holds the bright promise of future fulfillment in relief. Through the cross to the Light.
Joy requires a clear vision of our promised future fulfillment, and of the way that leads there. The vision is what we call faith, and the way is what we call love. Faith is the vision of both the Giver and that which we have been called to receive; hope is the Giver's promise that grounds our confidence that we will receive it; love is the manner in which we receive; and joy is the delight in all three.
Jesus Himself is the Giver, the Guarantor, the Truth of our vision, the Life that is our ultimate fulfillment, and the Way of love by which we are led into joy.
Pat, who had become a dear friend of our family back in the mid 1990's, was dying of cancer. He was terrified of death, as he feared his long life of selfish malice, of breaking hearts and lives would be waiting for him at the Last Judgment he was soon to face. His recent conversion back to faith, and life of repentance and charity, was no solace for him. He imagined only that the proportion of a few years of good will set against decades of wrongdoing would weigh against him in the final scales of justice.
Pat was joyless because he refused to accept mercy as a recklessly free gift given by a prodigal God to the undeserving. In his pain, Pat turned in on himself, wallowing in fear, drowning in anger-turned-inward, instead of "opening to the Sun above" whose joy over Pat's return would surpass — O Paradox! — even His infinity.
My wife brought our children to visit Pat in the hospice one day. When they walked in the room, Pat began to cry. Our youngest son, about 5 at the time, jumped up into the bed and excitedly said to Pat, "Don't worry, Mr. Pat, it's gonna be okay!" Pat began to sob, and said loudly, "No it's not!" Because of the commotion, the woman who was caring for Pat, who was a devout Catholic, told my wife that it's probably better if they leave so he can settle down.
Later that day this woman called me to share with me the story of what followed their visit. She said,
After they left, Pat was inconsolable and agitated. So I went to his bedside and said, "Pat, listen to me. Did you feel that little boy's innocence and love in his words to you? Didn't you feel God in him?" Pat seemed to calm a bit, and agreed. Then I said, "Don't you see that Jesus sent him to you to speak those words on His behalf? Pat, Jesus wanted you to know that those are the words you will hear when you die and face Him. 'Don't worry, Mr. Pat, it's gonna be okay.'"

Pat settled into a calm rest, and when I left the room, he flat-lined. So be sure to tell your wife and son that they were messengers of heaven and let Pat die in peace.
And joy.
Tout est grâce, "all is grace."
Before I spoke a word, You were singing over me
You have been so, so good to me
Before I took a breath, You breathed Your life in me
You have been so, so kind to me
Oh, the overwhelming, never-ending, reckless love of God
Oh, it chases me down, fights 'til I'm found, leaves the ninety-nine
I couldn't earn it, and I don't deserve it, still, You give Yourself away
Oh, the overwhelming, never-ending, reckless love of God, yeah
When I was Your foe, still Your love fought for me
You have been so, so good to me
When I felt no worth, You paid it all for me
You have been so, so kind to me
And oh, the overwhelming, never-ending, reckless love of God
Oh, it chases me down, fights 'til I'm found, leaves the ninety-nine
And I couldn't earn it, and I don't deserve it, still, You give Yourself away
Oh, the overwhelming, never-ending, reckless love of God, yeah
There's no shadow You won't light up
Mountain You won't climb up
Coming after me
There's no wall You won't kick down
Lie You won't tear down
Coming after me
There's no shadow You won't light up
Mountain You won't climb up
Coming after me
There's no wall You won't kick down
Lie You won't tear down
Coming after me
There's no shadow You won't light up
Mountain You won't climb up
Coming after me
There's no wall You won't kick down
Lie You won't tear down
Coming after me
There's no shadow You won't light up
Mountain You won't climb up
Coming after me
There's no wall You won't kick down
Lie You won't tear down
Coming after me
Oh, the overwhelming, never-ending, reckless love of God
Oh, it chases me down, fights 'til I'm found, leaves the ninety-nine
And I couldn't earn it, I don't deserve it, still, You give Yourself away
Oh, the overwhelming, never-ending, reckless love of God, yeah